About the creator of My Audio School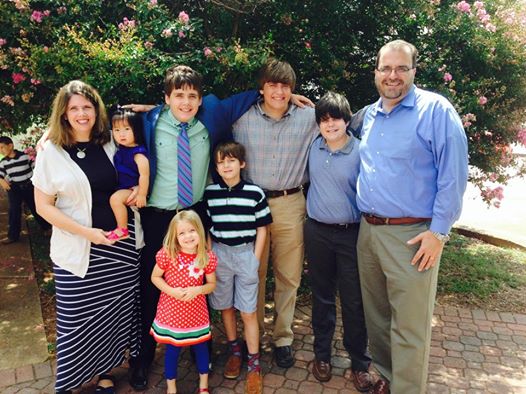 My husband David and I have been married for 23 years.  We spent the first several years of our marriage serving as missionaries in Eastern Europe.  In the late 1990s we moved back to the States, and we now reside in Georgia with our six children.
We have been home-educating for 14 years. I began my homeschool journey using Charlotte Mason's educational methods, a philosophy which employs the use of whole, "living" books rather than textbooks.   As my children have grown I have embraced a Classical philosophy of education, though I am still influenced by Charlotte Mason's ideas when choosing books for our homeschool.
What does this mean for you, a potential patron of My Audio School?   You can be confident that in selecting the material for My Audio School, I have used the same rigor I apply to choosing educational materials for my own children.   In fact, My Audio School was originally created for my children. Only after sharing it with friends and witnessing the powerful response which My Audio School generated did I decide to expand the site to what it is today.
When choosing books and supplementary materials for my children, I employ the highest standards. A book must be appropriate for a child's sensitive conscience. Artwork on the site must be modest. Books should also be challenging intellectually, appropriate for the education of a college-bound child, and interesting enough to captivate a child's attention so that he can truly learn.   With that said, you should approach this like any other booklist, screening material and choosing those books which are appropriate for your own child.  If you are choosing titles from the high school list, I encourage you to read our page A Word About High School Literature.
My children will probably listen to virtually everything offered on My Audio School at some time during their educational career. Some of them aren't ready for Homer's Odyssey yet, but one day they will be. Although I have not listened to every resource on My Audio School, I have gone to pains to try and include only content which meets my own high standards for an excellent, well-rounded, interesting education.
My Other Websites
My school blog, Countercultural School, has loads of recipes for historical feasts and directions for hands on projects that we've done. You'll find my Home Library Builders post series there, which details more about how I choose books and gives links to dozens of titles I like on a wide variety of subjects.
I speak frequently for homeschool groups, virtual seminars and conferences, and have served in the past as a writer for the Georgia Home Educator's Association. I have been a regular writer for Visionary Womanhood and for Mentoring Moments for Christian Women, and I maintain a blog for Christian women at CounterCultural Mom.   If you'd like to talk with me about speaking for your group or convention, please contact me at support@myaudioschool.com .
Sincerely,
Molly Evert